Nirav Modi created three layers of dummy companies in UAE, Hong Kong, British Virgin Islands, USA, Barbados and few other places using consultants from UAE and secret servers were created for communicating secretly with each other. The illegal proceeds from fraudulently obtained letters of undertaking (LoUs) from Punjab National Bank were circulated into a maze of companies and trusts which belonged to Nirav Modi, his sister Purvi Mehta, father Deepak Modi and wife Ami Modi.
In 2017, Nirav Modi purchased immovable property in the US for USD 25 million. The property was purchased in the name of The Ithaca Trust which was settled by Nirav's sister Purvi Mehta and the beneficiaries of this trust were Nirav's children.
The funds for purchasing this property were transferred from the fiduciary account of The Commonwealth Trust Company, USA. This fiduciary account, in turn, received funds from the accounts of Purvi Mehta maintained in the Bank of Singapore.
This account in Bank of Singapore was credited with money from the account of Ami Modi maintained in HSBC Bank, USA. The funds in the accounts of Ami Modi were credited from accounts of Purvi Mehta maintained in Amcorp Bank and Trust Barbados. This Amcorp account got most of the funds from the account of Fineclassic FZE, a Dubai-based dummy company of Purvi Mehta which were obtained from fraudulent LOUs. Fineclassic FZE, received funds from Dubai and Hong Kong-based dummy companies of Nirav Modi which were recipients of fraudulent LoUs obtained illegally from PNB.
Similarly, funds of around USD 171 million were transferred to Deepak Modi's accounts in the name of a company named Pacific Diamonds, Radhashir Jewellery Company Pvt Ltd, Solar Exports, Stellar Diamonds, Diamond R US, Firestar International Pvt, Firestar Diamond International Pvt Ltd, Nirav Modi Trust Trustee, Firestone Trading Pvt Ltd, Mak Business Enterprises Ltd and Bentley Properties Pvt Ltd.were also named. Deepak Modi, father of Nirav, a beneficiary of Link High International and Twin Square companies, in which the funds of around $50-55 million were transferred from Nirav Modi group dummy companies. In Hong Kong; Auragem Company Ltd, Sino Traders Ltd, Sunshine Gems Ltd, Fancy Creations Ltd, Brilliant Diamonds Ltd and Eternal Diamond Corporation Ltd. Nine dummy companies of Modi in UAE; Pacific Diamonds, Tri Colour Gems, Diagems FZC, Unity Trading Company, Universal Fine Jewellery, Himalayan Traders FZE – AJMAN, Hamilton Precious Traders, Unique Diamond and Jewellery FZC – Ajman and Vista Jewllery RZE – Furjairah. Six dummy companies in Dubai transferred $50 million to a British Virgin Island (BVI) company called Lili Mountain Investments Company, whose director is Purvi Mehta. From there, the funds were directly paid to one Enterprise Emerging Market Funds (EEMF), located in BVI. EEMF is a fiduciary fund which acts as per instructions of investors.
From EEMF, the funds were transferred into two companies, Forecom Worldwide Investment ($30million) and Jade Bridge Holdings Ltd ($20 million). The same amount was then used to invest in Firestar International Private Limited (FIPL) back in India via Foreign Direct Investment (FDI) route. "Thus, the amount was diverted to FIPL from Hong Kong after layering of funds through various overseas dummy companies,
UK police have arrested India's billionaire diamond dealer Nirav Modi in London. Modi and officials at the bank allegedly issued fraudulent Letters of Undertakings to overseas banks to obtain buyer's credit, according to India's Central Bureau of Investigation (CBI). Punjab National Bank (PNB), India's second-largest state-run bank, accuses Mr Modi of being one of the main suspects in a scam which defrauded it of $2bn. Mr Modi is one of India's richest men, worth an estimated $1.75bn, according to Forbes.
SWIFT is the Society for Worldwide Interbank Financial Telecommunications. The state-owned bank's employees had allegedly manipulated SWIFT in favour of Nirav Modi. For cross-border fund transfers, most lenders now use SWIFT technology, which is similar to a messaging system that uses encrypted channels for safety.
Over a period of seven years, a handful of PNB employees manipulated SWIFT and letters of undertaking (LoUs). LoUs, or bank guarantees based on which overseas lenders grant loans, were issued by PNB via its SWIFT system in favour of Modi. It is believed that PNB employees shared the SWIFT password with Modi's aide, which allowed them to conduct fraudulent transactions using the system. Gokulnath Shetty, former deputy manager of Punjab National Bank, has admitted to have unauthorised access to Level-5 password which is the key for the SWIFT software that is used to issue Letters of Undertaking (LoUs).
Nirav Modi created three layers of dummy companies in UAE, Hong Kong, British Virgin Islands, USA, Barbados and few other places using consultants from UAE and secret servers were created for communicating secretly with each other. Communication regarding functioning of these dummy companies was done on 'panemail' only between Kurian Mathews, Saju Poulose, Aditya Nanawati, Nirav Modi, Mihir Bhansali, Shyam Wadhwa and Shukla, etc." All dummy directors/owners/managers were having their accounts on panemail. Later on, this system was closed and migrated to new email system called "cricket".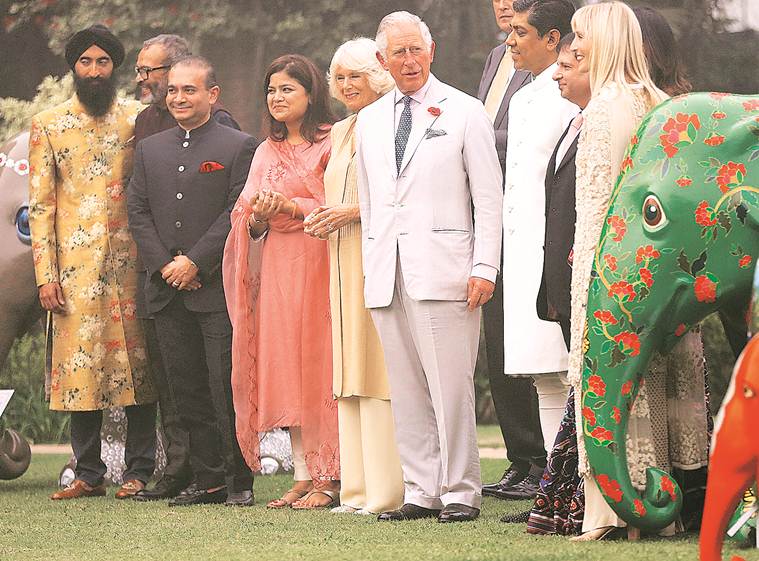 DirecTV Cinema
[ May 21 2018]
Backstabbing for Beginners (2018)   The true story detailed in Michael Soussan's memoir of the same name. The movie co-stars Jacqueline Bisset and Sir Ben Kingsley as Sullivan's corrupt boss.   A pacy, borderline noirish thriller — available via DirecTV a month before its April 27 theatrical release…U.N. rival Christine Du Pre (a steely Jacqueline Bisset) "Backstabbing for Beginners" is Bisset's 81st film in a career that has spanned six decades.   "I don't call people in advance to let them know I'm coming so I can be surprised when the photographer turns up. I'm able to have a pretty reasonable life."   Video Release: April 24th, 2018 by Lionsgate Home Entertainment   Distributed by: A24, DirecTV Cinema
[Jily 24 2017    "l'amant double"   ]
'L'amant double'
Reviewed at Cannes Film Festival (competing), May 25, 2017
It practically goes without saying that the French have different standards when it comes to kink. As Chloe's affair with Louis heats up, she's compelled to dig deeper into Paul's personal history, which brings her face-to-face with a classic sex symbol, Jacqueline Bisset, who plays an important character from his past — or is it hers?
[May 24 2015 The Last Film Festival. a Kickstarter project ]
The budget was a few hundred thousand at most, the actors were paid under a SAG Ultra Low Budget contract.
All that exists of this movie is a few various edits, a poorly maintained Facebook page and website. I doubt it will ever see the light of day, though i do encourage the filmmakers to release it onto the internet to honor the work of Dennis Hopper and the others who put their time, energy and talent into the movie
kickstarter.com The Last Film Festival: Dennis Hopper's Unseen Final Film 506 backers pledged $109,202 to help bring this project to life.
The making of The Last Film Festival was a group effort by cast and crew. Everyone had busy schedules and the only way we could do it was if we all got together and worked for little, well actually at times, no money at all.

We were able to recruit a very talented cast including Jacqueline Bisset, Joseph Cross, JoBeth Williams, Donnell Rawlings, Chris Kattan, Katrina Bowden and Leelee Sobieski and the film just took off!
[March 27 Welcome to New York released by IFC Films in US]
On March 27th, on VOD and in select theaters a version of Welcome to New York will be released by IFC Films. Abel Ferrara is alleging that his right to final cut has been violated by Wild Bunch, the film's global distributor, which has created an edited version of the movie for release in the U.S. and other countries around the world. For its part, Wild Bunch contends that Ferrara was contractually obligated to provide Wild Bunch, which helped finance the film, an R-rated version. "It was something he accepted originally in order to finance the film," said Wild Bunch head Vincent Maraval. Maraval also said that Wild Bunch offered to let Ferrara make the changes to the film himself, but that Ferrara refused and so Wild Bunch went ahead and created its own R-rated version.
more about the film
[February 11
View here
learn more
earlier entry
[May 18 2014 Jacqueline Bisset in Cannes for the premiere of "Welcome to New York"]

Industry, press and public watched the picture at the Star cinema as well as in a makeshift theatre on the Carlton's Nikki Beach, before heading to party where guests were frisked by fake NYPD cops on entering and goodie bags stuffed with white bath robes, whips, masks and handcuffs were handed out.
Simultaneously, the film also went up live on a dozen VOD sites in France, including Wild Bunch's platform FilmoTV, as well as in Germany, Spain and Italy.
[May 12]
Bisset plays Simone/Sinclair with the inner sadness of a woman whose marriage is based on some combination of genuine affection and social strategizing, who has too long stood by idly while her s.o. has sabotaged her plans (for both him and herself), and who can no longer recognize what she ever loved or cared for in this great, sagging hulk of a man. And at the center of it all is Depardieu, who gives the sort of performance that calls to mind Jean-Luc Godard's famous observation that every fiction film is also a documentary of its actors. New York rolls out digitally in France and other select territories on May 17th, alongside a special market screening organized in Cannes (from whose Official Selection the film is conspicuously absent). A U.S. release by IFC is likely.
more welcome
[April 29]

Golden Globe winner Jacqueline Bisset has joined the cast of Jay Craven's new film, "Peter and John," which is now in production around Nantucket Island, Massachusetts.
Peter and John tells the story of Peter Roland, a sensitive and sober town doctor in his early 30s. Peter takes pleasure from a cozy relationship with his striking mother, Louise.
"Peter and John," is a feature film collaboration by 20 professionals and 30 students starring Jacqueline Bisset and Christian Coulson. Peter and John is slated for production from April 3rd to May 7th. This project will only be funded if at least $55,500 is pledged by Thu, May 1 2014 8:00 PM EDT.
[January 13]

Best Supporting Actress in a series, mini-series, or TV movie
Jacqueline Bisset, Dancing on the Edge
And veteran Jacqueline Bisset earned her first Globe, winning the best supporting actress trophy for the miniseries "Dancing on the Edge."
[May 2]
[April 23]
[May 11]
Tweetpic of film set
[April 15]
Gerard Depardieu and his 20-year old daughter return to U.S. and stroll about on April 13. The DSK film is not ready to shoot but he has other projects. Le Père Noël est africain , Release date unknown, Directed by Karine Silla With Gérard Depardieu, Vincent Perez; Affaires étrangères (2013), Thriller, Director: Ziad Doueiri, stars: Gérard Depardieu; F2013, Director: Frédéric Auburtin, stars: Gérard Depardieu, etc.
[April 11]
Gerard Depardieu's hearing before a court in Paris for causing a motorcycle accident while drunk driving last November was delayed Friday until May 24, because the controversial French actor is in New York shooting a film about Dominique Strauss-Kahn. Star punishable by law 4500 euro fine and a sentence of up to two years in prison, Gerard Depardieu's hearing before a court in Paris for causing a motorcycle accident while drunk driving last November was delayed Friday until May 24, because the controversial French actor is in New York shooting a film about Dominique Strauss-Kahn.
Asked about the presence of the actor in court on May 24, his lawyer said he would present "if it corresponds to his work schedule."
[April 6]
In the streets of New York, recently naturalized Russian star has indeed been spotted strolling with his ​​daughter Roxane (20 years). Glasses on his nose and jacket tracksuit, Gérard Depardieu seemed in great shape and had a great accord with the young woman, laughing repeatedly. Like real New Yorkers, the actor and his daughter even took a taxi to go out to eat Korean Kunjip. Roxane was born of the past relationship with Gérard Depardieu director Karine Silla . Apparently he is due back in France and was seen entering a limo with baggage.
Gerard Depardieu has failed to show up in a French court to face charges of drink-driving because he was filming a movie in New York. It was the second time Depardieu had not appeared for the case, after failing to answer a previous summons in January. If convicted Depardieu could face up to two years in prison and a €4,500 ($3,800) fine, according to the Paris prosecutor's office.
The 64-year-old actor, who is in the US to make a film about the life of scandal-hit former International Monetary Fund chief Dominique Strauss-Kahn, has recently threatened to renounce his French citizenship, becoming a Russian citizen and taking up residency a few hundred metres from the French border in Belgium – a move that the local mayor said was aimed to avoid paying rising French taxes.
Depardieu months ago got into a public war of words with Socialist prime minister Jean-Marc Ayrault, who called the actor pathetic. Depardieu responded in an open letter in mid-December, saying the country he loved was no longer his home.
A fire broke out at a five-star hotel in the capital of Chechnya on Wednesday, damaging nearly every floor of the 35-story building—including an apartment owned by French tax-dodger Gerard Depardieu. Russian tabloids are reporting that one of the apartments on the 27th floor of the Grozny skyscraper belongs to the actor, who was granted"honorable resident" status (and a Russian passport) after fleeing France to avoid higher taxes.
[January 8]
Gerard Depardieu failed to turn up in court yesterday to face a drink driving charge because he was preparing to play the role of a French public figure even more controversial than himself.
According to his lawyer, Eric de Caumont, the actor was too busy to come to Paris because he was in Montenegro holding "urgent" talks about his next film — an account of the disgrace of the former IMF chief Dominique Strauss-Kahn.
[January 6]
French actor Gerard Depardieu, who was granted Russian citizenship by President Vladimir Putin, has arrived in Kyiv.
He is expected to attend the French Phoenix circus show and a private party. The actor has recently visited a winery in Kherson region.
Depardieu had recently announced he would give up his French passport after the government had decided to impose 75% super-tax on annual earnings above one million euros. Putin signed the decree granting Russian citizenship to Depardieu on January 3. Depardieu to play DSK in new film
[December 19]
Carlton Lille: Justice confirms indictment of DSK
Counsel for the former IMF chief took note of the decision of the investigating chamber and will form an appeal. Other lawyers indicted in the case refused to speak as they did not read the judgment.
In this case, nine people were indicted for aggravated pimping organized gang, and for some, for fraud, misuse of corporate assets and the misuse of corporate assets. DSK said he was unaware that women present at the parties in which he participated, particularly in Paris and Washington, were prostitutes.
One of the Belgian sex workers, known as Marion, who was allegedly paid €2,300 to travel to the U.S. for sex parties with the former IMF chief, claimed, according to leaks reported by French media, that she had sex once with Strauss-Kahn after dinner in a suite she shared with her colleague Estelle. But Marion reportedly claims that she said no to a second round of relations with Strauss-Kahn to no avail.
"I tried to free myself, but it was complicated, because he was on top of me, and he is very heavy," Marion claimed, according the French daily Le Monde. "I kept saying that I didn't want to … I didn't yell, but I said it clearly … several times out loud … I tried to get away … But Dominique Strauss-Kahn held me with his weight," she claimed, according to the heavily truncated leaked testimony published by Le Monde Monday. Marion allegedly testified that a Strauss-Kahn associate—who, according to the same reports, told police he had consumed champagne, Red Bull, and half a tablet of Viagra after aperitifs and wine over dinner—held the woman's wrists while encouraging Strauss-Kahn to continue.
13
[December 18]
what is striking is that of 8 indicted, 6 are Freemasons.
The case of Carlton Lille soon closed? Dominique Strauss-Kahn will know December 19 if the French part of his legal saga may be closed and his indictment lifted in the case of pandering after the end of the proceedings against him in the United States.
The investigating chamber of the Court of Appeal of Douai (Nord), which was originally scheduled to make its decision on November 28 , decides on requests for annulment filed by lawyers for the former head of the IMF and other protagonists of this file.
[Decemcer 10]

Dominique Strauss-Kahn and the hotel housekeeper who accused him of sexually assaulting her last year have agreed to settle her lawsuit stemming from their sexual encounter, a judge said on December 10.
The settlement, whose terms were not disclosed, was announced at a hearing in State Supreme Court in the Bronx,.
Justice Douglas E. McKeon entered the courtroom at 2:15 p.m., and said a deal had been finalized in his presence about 10 minutes earlier. Both sides agreed that the settlement would be confidential. Still active is a proceeding before the investigating chamber of the Court of Appeal of Douai
[December 5]
A hearing in the civil case of disgraced former IMF chief Dominique Strauss-Kahn has been set for December 10, after reports he will settle with the hotel maid who accused him of sexual assault.
"If the case is settled, this will be announced in open court on that day," Bronx Supreme Court Justice Douglas McKeon anounced December 3
The hearing is set for 2:00 p.m. McKeon said he expects the maid, Nafissatou Diallo, to be present, and for Strauss-Kahn to skip the proceedings.
[November 30]
The investigating chamber of the Court of Appeal of Douai postponed to December 19 its decision on the motion to dismiss filed by the lawyers of Dominique Strauss-Kahn and others indicted for procuring in "the Carlton Affair," said the prosecutor's office, Nov. 28.
Advocates of the former IMF chief and others called for the dismissal of the whole procedure, including the cancellation of indictments for aggravated pimping their customers in organized parties with prostitutes. They question the impartiality of judges, whom they accuse of not having submitted all the documents.
At the end of September, the Prosecutor General of Douai dismissed these motions, noting that the indictments were "justified" by "serious indications or consistent behavior" . He described as "inadmissible" because of a deadline, another motion to quash filed by the former public relations officer of the hotel Carlton Lille , René Kojfer.
Dominique Strauss-Kahn said he was unaware that the women present at the parties in which he participated, in Paris and Washington, were prostitutes.
[November 30]
Lawyers for Strauss-Kahn and the housekeeper, Nafissatou Diallo, made an as-yet-unsigned agreement within recent days, with Bronx Supreme Court Justice Douglas McKeon facilitating that and a separate agreement to end another lawsuit Diallo filed against the New York Post,
[August 23,'11]
A state judge dismissed criminal sexual-assault charges against former International Monetary Fund chief Dominique Strauss-Kahn on Tuesday, ending a case that damaged his political aspirations. The appellate division's ruling was expected to set the stage for Mr. Strauss-Kahn's eventual return to France, where he is a leading figure in the Socialist Party and had been considered a top candidate for the French presidency. Update, 1:46 EDT: A state appellate court has denied Diallo's request to appoint a special prosecutor. DSK's total liberation now appears imminent.
The last page of the medical report includes a diagram of the vaginal area of ​​the victim, a standard forms of this type.The lower part of the vagina of the patient, the "finger post" is shaded in pencil to mark the site of trauma. Right on the page, the practitioner has entered the red pen "on the red range." . Between "5 and 7 o'clock," as the face of a clock.The rest of the sheet is occupied by a "checklist" of the vaginal area of ​​Nafissatou Diallo, required for all rape victims. Single line devoted to the "finger post" has a comment: "Trauma" (trauma).
"Diagnosis: aggression. Cause of injury: assault. Rape."
here
A report has looked into the alleged disappearance of more than $100m worth of newly printed Liberian banknotes. "Kroll had limited confidence in the accuracy and completeness of the information provided by the CBL in respect of total disbursements."
Charles Sirleaf, the son of Liberia's former President Ellen Johnson Sirleaf, has been arrested in relation to the illegal printing of more than $104m (£78m) worth of local banknotes.