Patten sings about Kilimnik, gets early release from probation
20 May, 2020
Judge Amy Berman Jackson had sentenced W. Samuel Patten, a Washington lobbyist to three years probation.    Jackson has now released Patten early from probation because of his and prosecutors' agreement, his "compliance" since he pleaded guilty and "in the interests of justice."    Patten's criminal case revealed how he worked for Ukrainian political interests that Manafort also served and how he funneled tickets for President Donald Trump's inauguration to a Ukrainian oligarch and Manafort's Russian business associate Konstantin Kilimnik.
[May 13 2020   Paul Manarfort ealy covid release   ]
Paul Manafort has been released from prison to serve the remainder of his sentence in home confinement because of concerns over the novel coronavirus.
Manafort was released from FCI Loretto in central Pennsylvania early March 13 2020,
New York prosecutors have accused him of giving false information on a mortgage loan application, but a local judge dismissed the case Prosecutors are appealing that ruling.
[February 6 2020 Russian laundromat: Treasury in deal with EN+, Rusal, and EuroSibEnergo ]
EN+, Rusal, and EuroSibEnergo were sanctioned due to their connections with Oleg Deripaska rather than the "conduct of the companies themselves." In an agreement with the Treasury, the three companies reportedly said they would "reduce Deripaska's ownership stake, overhaul their boards of directors," and be fully transparent with the department. Since the companies plan to reduce Deripaska's influence, the department said it had determined that sanctions were no longer necessary.
[December 6 2019    ABN Amro   ]
The share price is ~€2 lower than before the investigation was unveiled in September, which implies the size of the fine the market thinks possible is in the region of €2bn.
[September 26 2019]
ABN Amro (ABNd.AS) is being investigated for involvement in a money laundering network which allegedly channeled billions of euros from Russia. Around 13 billion euros ($14.2 billion) was laundered each year through The Netherlands between 2004 and 2014, a sum equivalent to roughly 2% of Dutch GDP.
[September 26 2019 Aivar Rehe dead, Deutsche Bank raided ]


The body of Aivar Rehe, former head of Danske Bank in Estonia, who was a witness in an investigation into a €200bn (£177bn) money-laundering scandal, has been found in an apparent suicide.
German authorities have raided Deutsche Bank's (DBKGn.DE) Frankfurt headquarters in search of information related to Danske Bank (DANSKE.CO) and a money laundering scandal,
Deutsche Bank had alerted authorities to 1.1 million suspicious transactions, prosecutors said.
Prosecutors also said that a double-digit number of transactions, with a volume of 12.5 million euros, were either registered by Deutsche too late with authorities, or the bank should have blocked them from the start.
[March 17 2019 Deutsche Bank internal report ]

Deutsche Bank asked two in-house financial crime investigators – Philippe Vollot and Hinrich Völcker – report on the Russian Laundromat.. Their nine-page presentation was shared last year with the audit committee of the bank's supervisory board and is marked "strictly confidential".
The pair identified numerous "high-risk entities". They included 1,244 in the US, 329 in the UK and 950 in Germany. These entities were responsible for nearly 700,000 transactions, the report says, involving at least £62m in the UK, $47m in the US, and €55m in Germany.
As part of its investigation, Deutsche Bank sent 149 "suspicious activity reports" to the National Crime Agency in London. Similar disclosures of potential money-laundering transactions were made to authorities in the US and elsewhere – with 30 private and corporate Deutsche Bank clients reported. Some may have been "unknowingly used", the report says.
[  Troika Dialog, Quantus Division, Ltd[BVI] $billions out of Russia   ]
The system dubbed the Troika Laundromat by the Organized Crime and Corruption Reporting Project involved at least 75 offshore companies and exported about $4.8 billion between 2006 and 2013, often through fictional deals, with help from a now-defunct Lithuanian bank, according to the OCCRP's investigative journalists.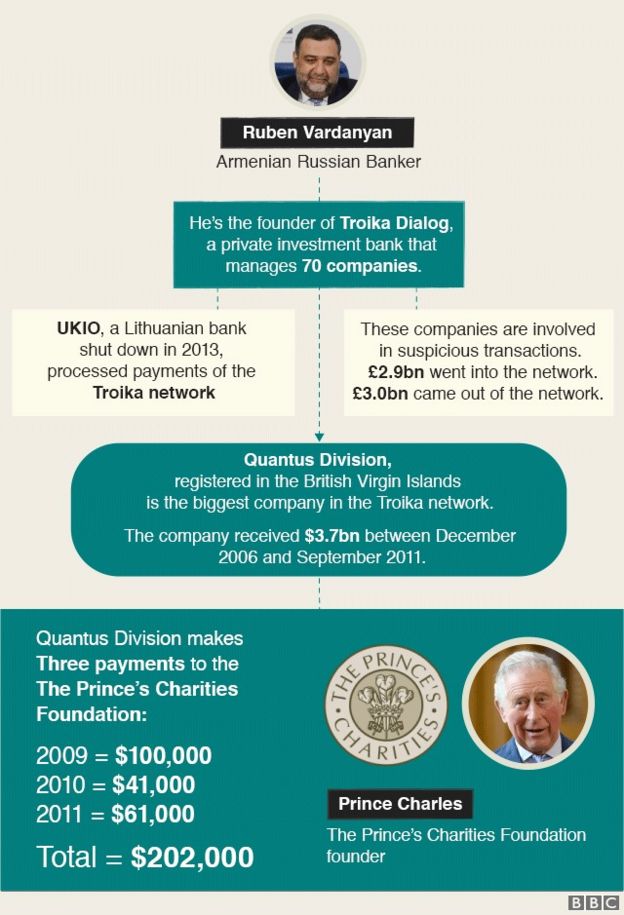 The oligarch, Ruben Vardanyan, is the former boss of Moscow investment bank Troika Dialog. The payments were from a company called Quantus Division Ltd, registered in the British Virgin Islands, which is revealed today to have been part of a network of offshore companies that sent billions of dollars out of Russia.
The network was managed by a Moscow investment bank, Troika Dialog, whose chief executive at the time was Mr Vardanyan, who was the 99th richest man in Russia two years ago,
[December 19 2018  U.S.Sanctions- Oleg Deripaska real estate seized — Rusal sanctions lifted   ]
12/19/2018
Today, OFAC submitted a notification to Congress of its intention to terminate the sanctions imposed on En+ Group plc ("En+"), UC Rusal plc ("Rusal"), and JSC EuroSibEnergo ("ESE") in 30 days…to remove sanctions on Russian billionaire Oleg Deripaska's aluminum company, United Co. Rusal, after reaching an agreement to significantly reduce his ownership stake.
Deripaska will remain under U.S. sanctions and his property will remain blocked,
https://www.treasury.gov/resource-center/sanctions/OFAC-Enforcement/Pages/20181219_33.aspx
[October 8 2018]
Washington has frozen Oleg Deripaska's US-based assets, including massive mansions in Manhattan and Washington, DC. But the feds are also negotiating with him to give up some of his European-based operations to keep them running free of sanctions, Treasury officials say.
Deripaska's US assets include a mansion at 11 East 64th St.
FBI agents tried unsuccessfully to flip Deripaska in exchange for information on Russian organized crime — and Russia's aid to President Trump's 2016 campaign, the New York Times reported last month.
In an affidavit attached to a July 2017 application, an FBI agent said he had reviewed tax returns for a company controlled by Manafort and his wife that showed a $10 million loan from a Russian lender identified as Oleg Deripaska. When Manafort joined the Trump campaign, he owed Deripaska close to $20 million, according to legal complaints Deripaska's lawyers filed in the Cayman Islands and New York
[ September 2018  Abramovich divorced then transferred holdings to her   ]
Listed by Treasury as Putin-related oligarch, Roman Abramovich has transferred Manhattan property to his  ex-wife (2017).
On Sept. 14, the city recorded the transfer of the three townhouses at 9, 11 and 13 E. 75th St. from Roman Abramovich to Dasha Zhukova for a total $74 million. In addition, Abramovich transferred 15 E. 75th St. to Zhukova for $16.5 million. (11, 13 and 15 are the ones being combined after June approval from the Landmarks Preservation Commission.)
Abramovich also transferred a fourth floor co-op at 225 E. 73rd St. to Zhukova for $900,000, as well as another first floor co-op at 215 E. 73rd St. for another $900,000, according to property records.
[April 22   Oerlikon is neither sanctioned nor blocked   ]
The Office of Foreign Assets Control (OFAC) of the US Department of the Treasury has identified Viktor F. Vekselberg and Renova Group, Moscow, as specially designated nationals pursuant to US sanctions rules, effective April 6, 2018.
Viktor F. Vekselberg indirectly holds an interest of 43.04 % in Oerlikon. Pursuant to the regulations of the OFAC of the US Department of the Treasury, Oerlikon is neither considered a sanctioned nor a blocked party because Mr. Vekselberg's ownership interest in Oerlikon is less than 50 %. US persons and entities, as well as any other persons and entities, are therefore not restricted in their dealings with Oerlikon or in investing in Oerlikon. Press release(04/09/18).
Assets totaling between $1.5 billion and $2 billion have been frozen as a result of sanctions imposed on Russian oligarch Viktor Vekselberg and his Renova Group conglomerate, Renova, which is headquartered in Moscow and has a subsidiary in Zurich, intends to maintain its Swiss holdings, which include a stake in Oerlikon (OERL.S).
[ April 10 Oleg Deripaska is a SDN. What does that mean? ]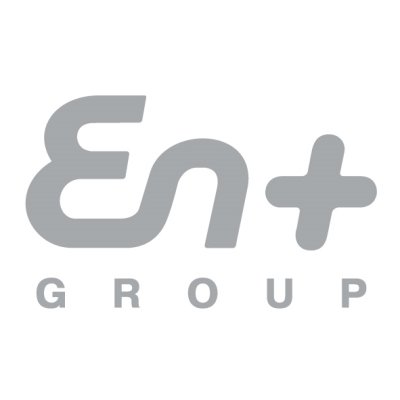 "We [Oleg Kouzmin and Daniel Salter] note that the fundamentals surrounding the Russian market remain mostly unchanged and that Russian equities still provide among the healthiest dividend returns globally. We would thus ignore the current jitters and buy into the current weakness, particularly with dividend season almost upon us."

The economic impact of the new sanctions was also unclear and analysts said it was too early to revise forecasts.
[April 7]
SDN stands for "Specially Designated National." In its statement announcing the sanctions, the U.S. Treasury Department said U.S. entities will be "generally prohibited from dealings with" the people and firms on the sanctions list.
In addition, it said, companies outside the United States "could face sanctions for knowingly facilitating significant transactions for or on behalf of" sanctioned entities.
Deripaska, with a net worth of $6.7 billion, is the main owner of the conglomerate EN+, which in turn is the co-owner of some of the world's biggest metals producers, Rusal and Nornickel.
Hong Kong-listed Rusal is one of the world's biggest aluminum producers. It says exports to the United States account for over 10 percent of its output.
Rusal owns assets in Italy, Ireland, Sweden, Nigeria, Guyana, Guinea. It owns a stake in Australian QAL, the world's top alumina refinery.
Nornickel has assets in Finland, in Australia, where it holds a license to develop the Honeymoon Well Project, and in South Africa, where it has a 50 percent stake in the country's only nickel concentrate producer, Norilsk Nickel Nkomati.
Swiss-headquartered Glencore is a shareholder in Rusal, and his said it plans to switch those shares to Deripaska's newly-created holding company, EN+. According to a Rusal prospectus, its major customers include Glencore, Toyota, and Rio Tinto Alcan.
Other foreign firms with ties to Deripaska's empire include Austrian construction company Strabag, in which the Russian's firm Rasperia has a blocking stake, and Singapore's Changi Airports International, which is a partner with a Deripaska-owned airports firm.
https://www.nbcnews.com/business/business-news/coca-cola-about-cost-you-more-thanks-trump-s-tariffs-n894951
[April 6 Oligarchs and Russian meddlers sanctioned: up to April 6 2018 ]
AKIMOV, Andrey Igorevich,
BOGDANOV, Vladimir Leonidovich,
DERIPASKA, Oleg Vladimirovich,
DYUMIN, Alexey Gennadyevich (a.k.a. DYUMIN, Alexei),
FRADKOV, Mikhail Efimovich (Cyrillic: ФРАДКОВ, Михаил Ефимович),
FURSENKO, Sergei (a.k.a. FURSENKO, Sergey; a.k.a. FURSENKO, Sergey Aleksandrovich);
GOVORUN, Oleg,
KERIMOV, Suleiman Abusaidovich (Cyrillic: КЕРИМОВ, Сулейман Абусаидович) (a.k.a. KERIMOV, Suleyman)
KOLOKOLTSEV, Vladimir Alexandrovich,
KOSACHEV, Konstantin,
KOSTIN, Andrey Leonidovich,
LEONE MARTINEZ, Miguel Jose (a.k.a. LEONE, Miguel),
MILLER, Alexey Borisovich,
PATRUSHEV, Nikolai Platonovich,
PEREZ ALVEAR, Jesus (a.k.a. "Chucho Perez"),
REZNIK, Vladislav Matusovich,
ROTENBERG, Igor Arkadyevich (a.k.a. ROTENBERG, Igor Arkadevich)
SHAMALOV, Kirill Nikolaevich
SHKOLOV, Evgeniy Mikhailovich
SKOCH, Andrei Vladimirovich (a.k.a. SKOCH, Andrey)
TORSHIN, Alexander Porfiryevich,
USTINOV, Vladimir Vasilyevich,
VALIULIN, Timur Samirovich,
VEKSELBERG, Viktor Feliksovich,
ZHAROV, Alexander Alexandrovich (a.k.a. ZHAROV, Aleksandr)
ZOLOTOV, Viktor Vasiliyevich,
• AgroHolding Kuban
• Basic Element Limited
• B-Finance Ltd.
• EN+ Group PLC
• JSC EuroSibEnergo
• GAZGroup
• Gazprom Burenie, 000
• Ladoga Menedzhment, 000
• NPV Engineering Open Joint Stock Company
• Renova Group
~ Russian Machines
~ United Company RUSAL PLC
• Any other entity in which one or more of the above persons own, directly or indirectly,
a 50 percent or greater interest
e, all transactions and activities
otherwise prohibited by the Ukraine Related Sanctions Regulations, 31 C.F.R. part 589, that are
ordinarily incident and necessary to divest or transfer debt, equity, or other holdings in the following
blocked persons to a non-U.S. person, or to facilitate the transfer of debt, equity, or other holdings in
the following blocked persons by a non-U.S. person to another non-U.S. person, are authorized through
12:01 a.m. eastern daylight time, May 7, 2018:
• EN+ Group PLC
• GAZ Group
• United Company RUSAL PLC
https://home.treasury.gov/news/press-releases/sm0338
[ March 15 targets are the same as Mueller's? ]
Targets are the same as those identified by an indictment by Robert Mueller?
Internet Research Agency LLC
Yevgeniy Viktorovich Prigozhin
Concord Management and Consulting LLC
Concord Catering
Dzheykhun Nasimi Ogly Aslanov
Anna Vladislavovna Bogacheva
Maria Anatolyevna Bovda
Robert Sergeyevich Bovda
Mikhail Leonidovich Burchik
Mikhail Ivanovich Bystrov
Irina Viktorovna Kaverzina
Aleksandra Yuryevna Krylova
Vadim Vladimirovich Podkopaev
Sergey Pavlovich Polozov
Gleb Igorevich Vasilchenko
Vladimir Venkov
Officials
Sergei Afanasyev
Vladimir Alexseyev
Sergey Gizunov
Igor Korobov
Igor Kostyukov
Grigoriy Molchanov
https://home.treasury.gov/news/press-releases/sm0312
[February 1 Oligarchs listed by U.S. Treasury – from Forbes ]
"A lot of work had gone into compiling the original list, but  someone high up in the administration had ordered for it to be binned and replaced by the Forbes-based list.
In an emailed statement to Forbes, a Treasury spokesperson explained that the unclassified report was derived from open sources, including Forbes and others
UNCLASSIFIED
Appendix B: List of Oligarchs
1 Aleksandr Abramov
2. Roman Abramovich
3. Araz Agalarov
4. Farkhad Akhmedov
5. Vagit Alekperov
6. Igor Altushkin
7. Aleksey Ananyev
8. Dmitriy Ananyev
9. Vasiliy Anisimov
10. Roman Avdeyev
11 Petr Aven
12. Yelena Baturina
13. Aleksey Bogachev
14. Vladimir Bogdanov
15. Leonid Boguslayskiy
16. Andrey Bokarev
17. Oleg Boyko
18. Nikolay Buynov
19. Oleg Deripaska
20. Aleksandr Dzhaparidze
21. Leonid Fedun
22. Gleb Fetisov
23 Mikhail Fridman
24. Aleksandr Frolov
25. Filaret Galchev
26. Sergey Galaskiy
27 Valentin Gapontsev
28. Sergey Gordeyev
29. Andrey Guryev
30, Yuriy Gushchin
31. Mikhail Gutseriyev
32. Sait-Salam Gutseriyev
33. Zarakh Iliyev
34. Dmitriy Kamenslichik
35. Vyacheslav Kantor
36. Samuel Karapetyan
37. Yevgeniy Kasperskiy
38. Sergey Katsiyev
39 Suleyman Kerimov
40. Igor Kesayev
41. Danil Khachaturov
42. German Khan
43. Viktor Kharitonin
44. Aleksandr Klyachin
45. Petr Kondrashev
UNCLASSIFIED
UNCLASSIFIED
46. Andrey Kosogov
47 Yuriy Kovalchuk*
48 Andrey Kozitsyn
49. Aleksey Kuzmichev
50. Lev Kvetnoy
51 Vladimir Lisin
52. Anatoliy Lomakm
53 Ziyavudin Magomedov
54. Igor Makarov
55 Iskander Makhmudov
56. Aleksandr Mamut
57 Andrey Melnichenko
58. Leonid Mikhelson
59 Yuriy Milner
60. Boris Mints
61. Andrey Molchanov
62. Aleksey Mordashov
63. Vadim Moshkovich
64. Aleksandr Nesis
65. God Nisanov
66. Aleksandr Ponomarenko
67, Sergey Popov
67, Sergey Popov
68. Vladimir Potanin
69. Mikhail Prokhorov
70. Dmitriy Pumpyanskiy
71. Megdet Ralchimkulov
72. Andrey Rappoport
73 Viktor Rashnikov
74. Arkadiy Rotenberg*
75. Boris Rotenberg*
76. Dmitriy Rybolovlev
77. Ayrat Shaymiyev
78. Radik Shaymiyev
79 Kirin Shamalov
80. Yuriy Sheller
81. Albert Shigabutdinov
82. Mikhail Shishkhanov
83. Leonid Simanovskiy
84. Andrey Skoch
85. Aleksandr Skorobogatko
86. Rustem Sulteyev
86. Rustem Sulteyev
87 Aleksandr Svetakov
88. Gennadiy Timchenko*
89. Oleg Tinkov
90. Roman Trotsenko
91 Alisher Usmanov
92. Viktor Vekselberg
93. Arkadiy Volozh
94. Vadim Yakunin
95. Vladimir Yevtushenkov
96. Gavril Yushvayev
UNCLASSIFIED
3
https://www.dailymail.co.uk/news/article-5634145/Putin-linked-Russian-billionaires-bid-hide-183m-superyacht-ex-wife-fails.html