Houssein Bajjadi and the 10 other accused identified by Belgian authorities are due to be retried at the end of 2019 or early 2020 after the prosecution appealed their acquittal last year.
June 26, 2018 brussels – The Public Prosecution Service appeals against the acquittal last month of eighteen suspects of the diamond robbery at Brussels airport in 2013.
BRUSSELS — Five years after a brazen multimillion-dollar diamond heist on the tarmac of Brussels Airport, the Brussels Criminal Court on Thursday, May 17, cited a lack of evidence as it acquitted 18 suspects in the case."They made a very wide sweep. They focused on some famous names," said defence lawyer Nathalie Gallant, who claimed the investigators "worked with blinkers" on. She said the verdicts were not a surprise to those in the courtroom.
In its judgment, the Brussels court found that "the elements are not sufficiently precise and concordant to establish the guilt of the defendants," . It lifted all confiscations of their property which had been seized as a precautionary measure. "The Brussels Criminal Court drew conclusions on a case that began with rumors," said one of the defense lawyers, Pierre Monville,
[   'Dr. Fantástico' 6 minutes yields $5M in Brink robbery at Brazil airport   ]
Criminals stormed into the apron of the International Airport of Viracopos, in Campinas, a city some 100 km from São Paulo, Sunday evening, 9:30 pm local time, said Aeroportos Brasil Viracopos, which controls the airport. The criminals used a Hilux truck
[March 6 ]
The Lufthansa jet landed at Viracopos, Brazil's largest freight airport, from nearby Guarulhos airport in Sao Paulo. The plane was stopping over before flying to Zurich, Switzerland.
The robbers drove a pickup truck plastered with the logo of a local security company into the airport grounds.
Five of the robbers held up guards from the security company Brinks, loaded the money on the truck and drove off, according to Brazilian newspaper Folha de Sao Paulo.
The heist lasted six minutes and none of the guards were hurt.
earlier Brink Antwerp diamond robbery
[May 15 2015 Cannes robbery yields $20066375.00, €17.5 million (£13 million) worth of jewellery and watches ]
the Cartier jewelery shop on the Croisette in Cannes has been holded up by four armed men who fled with a large amount of jewelry One robber in an old-man mask carrying a pistol burst into a Cartier boutique, letting in two accomplices with scarves around their faces, while a fourth man stood guard outside.
Two employees and a shopper were in the store at the time.
The robbers stuffed jewellery and watches into a leather satchel and jewellery bag. In their rush to make a getaway, they dropped several expensive watches onto the pavement, later recovered by the store.
The thieves made off in a Mercedes reported stolen in March that was later found burned out in a residential part of the town.
The Cartier store lies next to the luxury Carlton hotel – the scene of another daring jewellery raid in July 2013 that saw a lone thief make off with more than €140 million of gems, after breaking into the hotel through a door on the ground floor.
[March 13 Hatton Garden, London: USD $ 298, 570,000.00 in jewels and gold stolen]
London Diamond Bourse (LDB) stated that the value of stolen goods has not yet been confirmed, so it will not fuel media speculation by commenting in that respect. London's media has placed the value of stolen goods at anywhere from $50 million to $300 million.
Over the Easter weekend. burglars used heavy equipment to break into a vault used mainly by jewellers and gold dealers, Hatton Garden Safe Deposit. "The amount of money and the goods that are taken is never fully revealed… and there's a good chance that not everybody would declare.
"I would not be surprised, given where this one is in Hatton Garden, if £200m is around about the amount stolen."
In 2003 jewellery, cash and valuables worth an estimated £1.5m were stolen when a criminal, posing as a customer, emptied a number of boxes at the Hatton Garden Safe Deposit company
jewel robbery.
[March 14 9525150 Dollar jewel hijack on French highway]

Just after midnight two trucks were passing through a motorway toll at Avallon, in Burgundy, when they were targeted. Four cars surrounded the lorries – laden with valuable goods – as up to 15 robbers wearing balaclavas and brandishing automatic weapons jumped out.
"The trucks were full of jewels and other valuable goods," said a judicial source involved in the investigation. "They were driven away along with the four cars being used by the robbers." [March 14 Difficult, however, to know what the robbers can concretely collect for the loot. "The ratio rarely exceeds 40% of the value for concealment. It is rather on the order of 20%. In all cases, in my opinion, having regard to the manner in which the robbery took place, we will not find the loot. »
[May 39 2014 Diamond heisters were expecting to find a large cash shipment instead of diamonds and were unprepared to deal with what they found]
Authorities in Morocco have reported the arrest of four men wanted in connection with a number of armed robberies, including the diamond robbery that took place at Brussels Airport in February of last year.
The four are wanted for "attempted murder, armed robbery at goods transport warehouses, a major jewel theft at a European airport and an armed attack on a Belgian hospital with the intention of helping a prisoner escape.
[January 3 2014]The man thought to be the brains behind the operation, Frenchman Marc Bertoldi, was released on bail last month. No trace of the stolen diamonds has been found, and investigators have speculated that the men were expecting to find a large cash shipment instead of diamonds and were unprepared to deal with what they found.
The latest suspect is a 43-year-old man identified only as Nordine A. He was arrested on 13 December but released after questioning and after giving a DNA sample. He was arrested a second time on 23 December and formally imprisoned the next day, a spokesman for the prosecutor's office said. The prosecutor would not confirm that the arrest was related to DNA evidence found at the scene of the robbery.
The robbery at Zaventem took place on 18 February 2013, when eight armed and masked men in police uniforms attacked a Swiss airlines flight.
[July 26 2013]
Marc Bertoldi, the criminal mastermind behind the heist of at least tens of millions of dollars worth of rough diamonds from an airport in Belgium, has been deported to that country to stand trial. The 43-year-old suspect has a lengthy criminal record. Bertoldi is a French citizen and he was captured in France. Bertoldi admitted that he had sold some of the loot. However, he said he did not participate in the robbery. According to a report from Moroccan intelligence services, he called his wife to tell her to watch the news, saying he had done something big. Dimitri de Beco, his lawyer said that his phone had been left off for two days before the robbery, "This report not, more than five pages and is not signed . The Moroccan intelligence report is that he said to his wife, one day before the robbery, he would not be reachable. "these claims are questionable because Moroccan intelligence services do not specify how or where they got this information."
Moreover, "the investigators of the Belgian police, who went to Casablanca as part of a commission, had never heard of this report," says the lawyer, who said that "this information can not under no circumstances be used to keep my client in jail." The judge Marc Bertoldi ruled that Bertoldi is suspected of being the author or, at least, to have participated in the spectacular robbery.
[May 8]
Police in Belgium, Switzerland and France have arrested 31 people in connection with one of the world's largest robberies of diamonds.
Belgian prosecutors say they have recovered large sums of money and some of the diamonds that were taken in a raid at Brussels airport in February.
Query: why was Brink's the shipper for a portion of the diamonds going from Antwerp to Switzerland [not the other way around]? Exports of rough diamonds in February fell to 7.49 million carats from 9.10 million carats last year, while declining to US$1.12 billion from US$1.16 billion last year. Global miners such as De Beers and Rio take the entire quantity of rough diamonds directly to major hubs like Belgium, assort them and sell to global processors, to avoid taxes.
Brink's of Belgium, whose truck was robbed on the airport tarmac of lots of diamonds, has a nasty legal battle with its unions ongoing. An inside job seems likely. They took 120 parcels of diamonds weighing 22lbs . They were uncut, with no certificate. "The perpetrators knew very clearly, " said Caroline Wolf.
Faced with a complicated labor dispute in 2010, Brink's cut its losses. Brink's of Belgium, the cash-delivery business, declared bankruptcy. Its workers were laid off without severance. Brink's moved management to the Netherlands, while keeping the lucrative Antwerp-based jewelry-delivery business. "We didn't have a choice, we were losing too much money," said Mr. Candel.
The unions filed suit in a Belgian court challenging the change in job status and lack of severance. "Brink's acted as if we wouldn't be vigilant, but we have lawyers," said Valerie Van Waregem, a delegate for the socialist union.
Labor experts say Brink's probably erred in not negotiating a compromise with unions over severance, something that is required in the event of bankruptcy by a 2008 EU directive. "We never refused a dialogue with the unions," said Mr. Candel. "They refused to work."
In Europe, "one cannot do what one would be able to do in the United States with a bankruptcy," said Thomas Kohler, a professor of labor law at Boston College. "In U.S. law, employees are unsecured creditors. It's a very different situation in Europe."
The insurance for air transport – handled sometimes by airlines themselves or external insurance companies – is usually relatively cheap because it's considered to be the safest way of transporting small high value items, logistics experts say.
Exports of rough diamonds in February fell to 7.49 million carats from 9.10 million carats last year, while declining to US$1.12 billion from US$1.16 billion last year. Global miners such as De Beers and Rio take the entire quantity of rough diamonds directly to major hubs like Belgium, assort them and sell to global processors, to avoid taxes.
Brink's Co., a provider of armored cars to transport valuables, said a diamond robbery at Brussels airport will have a "significant impact" on first-quarter earnings.
A portion of the gems stolen two days ago was being shipped by Brink's, the Richmond, Virgina-based company said today in a statement.
"The total loss exposure has not been verified, and the loss exposure for Brink's has not been disclosed," the company said. Brink's "has a longstanding insurance program in place to cover its losses."
Brink's said that while the loss will hurt first-quarter earnings, the robbery won't "materially affect" it's full- year profit forecast.
But a robbery of this size also catches the eyes of people who study the illegal diamond trade. A decade ago, concern over so-called "blood diamonds," which are diamonds mined in conflict zones, led to industry participation in a regulatory process designed to clarify a precious stone's place of origin. The goal was to make it harder to use illegal diamond sales to finance armed conflicts.
In effect since 2003, the Kimberley Process is a voluntary system that combines compliance from industry, government, and non-government monitors. This morning's stolen diamonds should fall under the Kimberly Process rules, which cover "rough" or uncut diamonds, not finished ones. This morning's stolen diamonds were rough.
If they were going from Belgium to Switzerland, and they were rough, they would have needed a Kimberley certificate
The Carlton case: the civil conviction of DSK has been annulled on appeal. Recalling that the damage that a civil party can obtain compensation must result from a proven fault and limited to the object of the prosecution, the highest court of the judiciary considered that the Court of Appeal had disregarded this principle. In June 2015, the four defendants had all been acquitted by the Criminal Court of Lille.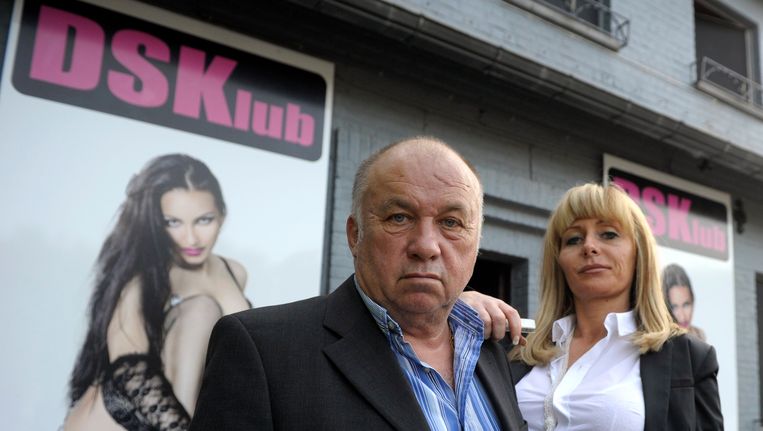 [ March 4 2015 Dominique Strauss-Kahn settles 'Dodo Sex Klub' case? ]
Dominique Alderweireld claimed that "The DSK" meant in reality "Dodo Sex Klub", the former president of the IMF nevertheless sued the owner of the club. On June 30,3014, a Belgian justice prohibited Dominique Alderweireld to use the initials of Dominique Strauss-Kahn to increase the notoriety of his bar hostesses, located near the French border. A judgment which Dominique Alderweireld appealed.
While the Court of appeal of Mons had to consider the case, Tuesday, March 3, it seems that the two men have finally reached an agreement. "At the end of last week, I was contacted by Mr Strauss-Kahn's counsel proposing a settlement.Dominique Alderweireld wished to add specific conditions. The terms of the agreement are not yet finalized but it will not result in a delay", said Mr. Etienne Wéry, the lawyer of Dominique Alderweireld. It islikely that Dominique Strauss-Kahn will abandons the suit and that Dominique Alderweireld renounces the name "The DSK".
[May 28 2014]
The Court of First Instance of Hainaut , a division of Tournai, set the trial between Dominique Strauss v. Kahn Dominique Alderweireld , pimp better known by the nickname Dodo Brine forThursday, February 5, 2015 at 15h . The court granted the request of the former head of the IMF, for a summary hearing on the prohibition of his initials and image in advertising the new facilityof Dodo Brine , opened Bernissart April 30 last for On 25 June 2014.
The Brussels lawyers Dominique Strauss- Kahn , namely Alain Berenboom and Michèle Hirsch, and lawyers Dominique Alderweireld the Tournaisien Me Wery Etienne and Paris Sorin Margulis, will defend the views of their customers in a public hearing Referee scheduled Wednesday, June 25 at 9 am at the courthouse in Tournai .
The former IMF chief asks the court to prohibit Dominique Alderweireld use his initials, " that identify to everyone " for operating a brothel in Bernissart . Lawyers Dodo Brine noted several cases where the initial DSK , which does not necessarily refer to the former head of the IMF , are used for commercial purposes . Dodo, meanwhile, refused to change the name of the Dodo Sex Klub .
The two men are both summoned on pimping charges before the Lille Criminal Court in the case of so-called " Carlton Affaire" . This trial will take place in 2015.
[April 30]
Strauss-Kahn has had a letter sent by his French lawyers threatening every judicial measure against Dominique Alderweireld or 'Dodo la Saumure' for opening brothel under the name 'Dodo Sex Klub'" with his (Strauss-Kahn's) initials "which identify him to all." It is set to open in the town of Blaton in Belgium, where prostitution and owning brothels are legal. Alderweireld and Strauss-Kahn both face pimping charges in relation to an alleged prostitution ring at the luxury Hotel Carlton in the French city of Lille. If convicted, Strauss-Kahn faces a maximum of ten years in jail and a fine of up to €1.5 million (£1.29m).
[May 27 2013]
French prosecutors are convinced they have a case against Strauss-Kahn for "aggravated pimping in an organised gang."
The case, known here as the "Carlton affair", centres around allegations that business leaders and police officials in Lille operated a vice ring supplying girls for sex parties, some of which are said to have taken place at the city's Carlton Hotel. Investigators are seeking to discover if prostitutes were paid using corporate funds from a large French construction company, Eiffage.
"If these parties and these trips across the Atlantic were being financed by a major French group for purposes of prostitution obviously that puts a lot of people in deep trouble because it is a misuse of corporate money," said a legal expert who is not linked to the Strauss-Kahn case.
[March 23 2013]
Former IMF chief Dominique Strauss-Kahn cancelled plans to speak at an European Parliament debate next week, after MEPs said it would be "indecent" for him to speak at the House.
Madame Bea reveals the events that occurred on March 6, 2009 in the Parisian restaurant L Aventure where, after lunch, Strauss-Kahn and five more men went down to the basement and began the sex party,. "I have in my mind the image of DSK dressed only in a white shirt. He had dropped his pants and had four straight sex with the girl on all fours and just meters from us. Dominique Alderweireld, alias Dodo The Saumure, companion and partner of Bea in brothels, admits that a call intercepted by the police talking about this orgy was the trigger the so-called Carlton Case , a scandal for which Dominique Strauss-Kahn declared late March accused of pimping. Spanish Vanity Fair