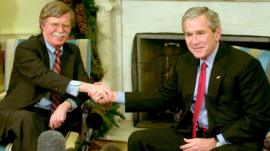 United States Special Counsel Robert Mueller is Special Counsel to Investigate Russian Interference with the 2016 Presidential Election and Related Matters
John Bolton:
Assistant Attorney General, Department of Justice (1985–1989);
His Justice Department position as an assistant attorney general required him to advance Reagan administration positions, including[40] opposition to financial reparations to Japanese-Americans held in World War II–era internment camps;[41] the insistence of Reagan's executive privilege during William Rehnquist's chief justice confirmation hearings, when Congress asked for memos written by Rehnquist as a Nixon Justice Department official;[42] shepherding the judicial nomination process for Antonin Scalia;[40] and the framing of a bill to control illegal immigration as an essential drug war measure.[40] He was also involved in the Iran–Contra affair.
Since 1988 Mr. Bolton has been Assistant Attorney General of the Civil Division at the Department of Justice. Prior to this, he was Assistant Attorney General in the Office of Legislative Affairs at the Department of Justice, 1985 – 1988. He was a partner with Covington & Burling, 1983 – 1985, and executive director of the Committee on Resolutions for the Republican National Committee, 1983 – 1984. He was Assistant Administrator for Program and Policy Coordination, 1982 – 1983, and General Counsel, 1981 – 1982, at the Agency for International Development.
[March 21 2012 John Edwards and Rielle Hunter and Paula Broadwell ]
John Edwards was certain that he was having a heart attack, so he called Rielle Hunter, it is said. .She rushed over from her place in Charlotte. On being released from N.C. Memorial Hospital, Edwards returned to the Chapel Hill, N.C., estate he once shared with his late wife Elizabeth.
He now lives there with his two youngest kids, Emma Claire, 14, and Jack, 12. He and Rielle are not living together,
Paula Broadwell, Gen. David Petraeus's "other woman," lives just about 1.6 miles away from the home of Rielle Hunter. Both women reside in the Dilworth section of Charlotte, N.C.
[September 15, 2012]
"I don't want to talk about our relationship," she says, sweetly but firmly.
The jurors were unable to reach a verdict on the remaining five counts, which included a conspiracy charge and two charges related to donations from another wealthy donor, the late Fred Baron. The Justice Department filed notice with U.S. District Judge Catherine C. Eagles in North Carolina on Wednesday that it was dropping the remaining charges.