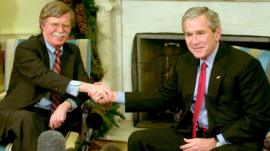 United States Special Counsel Robert Mueller is Special Counsel to Investigate Russian Interference with the 2016 Presidential Election and Related Matters
John Bolton:
Assistant Attorney General, Department of Justice (1985–1989);
His Justice Department position as an assistant attorney general required him to advance Reagan administration positions, including[40] opposition to financial reparations to Japanese-Americans held in World War II–era internment camps;[41] the insistence of Reagan's executive privilege during William Rehnquist's chief justice confirmation hearings, when Congress asked for memos written by Rehnquist as a Nixon Justice Department official;[42] shepherding the judicial nomination process for Antonin Scalia;[40] and the framing of a bill to control illegal immigration as an essential drug war measure.[40] He was also involved in the Iran–Contra affair.
Since 1988 Mr. Bolton has been Assistant Attorney General of the Civil Division at the Department of Justice. Prior to this, he was Assistant Attorney General in the Office of Legislative Affairs at the Department of Justice, 1985 – 1988. He was a partner with Covington & Burling, 1983 – 1985, and executive director of the Committee on Resolutions for the Republican National Committee, 1983 – 1984. He was Assistant Administrator for Program and Policy Coordination, 1982 – 1983, and General Counsel, 1981 – 1982, at the Agency for International Development.
[March 21 2012 John Edwards and Rielle Hunter and Paula Broadwell ]
John Edwards was certain that he was having a heart attack, so he called Rielle Hunter, it is said. .She rushed over from her place in Charlotte. On being released from N.C. Memorial Hospital, Edwards returned to the Chapel Hill, N.C., estate he once shared with his late wife Elizabeth.
He now lives there with his two youngest kids, Emma Claire, 14, and Jack, 12. He and Rielle are not living together,
Paula Broadwell, Gen. David Petraeus's "other woman," lives just about 1.6 miles away from the home of Rielle Hunter. Both women reside in the Dilworth section of Charlotte, N.C.
[September 15, 2012]
"I don't want to talk about our relationship," she says, sweetly but firmly.
The jurors were unable to reach a verdict on the remaining five counts, which included a conspiracy charge and two charges related to donations from another wealthy donor, the late Fred Baron. The Justice Department filed notice with U.S. District Judge Catherine C. Eagles in North Carolina on Wednesday that it was dropping the remaining charges.
Former Sen. John Edwards (D-N.C.) will stand trial on campaign finance-related charges; jury selection to begin April 12 and opening arguments for April 23.
Edwards is facing six felony charges stemming from nearly $1 million in payments two of his political backers made to cover expenses incurred by his mistress, Rielle Hunter, and her child that Edwards fathered. Some of the money was paid as Edwards was running for president in 2007 and 2008. Some of it was paid after he quit the race.
The government contends that the payments were campaign donations intended to advance his political career.

[December 22, 2011]A federal judge says she has two letters from a cardiologist saying ex-presidential candidate John Edwards has a life-threatening condition that will require surgery in February.
The letters were revealed during a hearing Friday to consider whether the 58-year-old ex-North Carolina Senator would go on trial later this month for alleged campaign finance violations.
Attorneys for Edwards were seeking a 60-day delay to allow time for Edwards to recover. The judge delayed the trial to March 26.
Edwards was in court at the judge's request, although doctors advised him to avoid travel and all court proceedings.
Prosecutors say they're ready to try Edwards on six felony and misdemeanor counts related to nearly $1 million from wealthy donors used to help hide his pregnant mistress during his 2008 While House run. The latest from the National Enquirer: "John Edwards Secret Wedding to Rielle! His desperate attempt to CHEAT JUSTICE." The mainstream media normally would turn a blind eye to such headlines. But this case – made for the tabloids with its infidelity, Hollywood-handsome characters, large financial gifts and jet-setting lifestyles – has been stranger than fiction. The tabloids, with reports that seemed farfetched and bogus, often had the story right and first.
[December 22]John Edwards says he has been diagnosed with a medical condition that would make it difficult for him to attend his approaching criminal trial over campaign finances and is asking for it to be delayed.
In a motion filed Thursday, Edwards' lawyers asked a federal judge to delay the start of the Jan. 30 trial for at least two months. They did not disclose his illness and filed sealed records with the court. Prosecutors said they are ready to try Edwards on six felony and misdemeanor counts related to nearly $1 million from wealthy donors used to help hide his pregnant mistress during his 2008 run for the While House.
Has disgraced ex-senator, Edwards' whose illicit affair with Rielle Hunter, 47, and her pregnancy was uncovered during the 2008 presidential campaign , asked the blonde divorcee to move into his North Carolina home? Is she "considering the move?"
[June 3]John Edwards, the former Democratic senator from North Carolina, pleaded not guilty Friday to charges that he conspired to cover up an extramarital affair while running for president in 2008 by "secretly obtaining," misusing and misreporting certain campaign contributions in violation of federal law.
He entered his plea at the federal courthouse in Winston-Salem on the afternoon of June 3, setting the stage for a trial to begin July 11. When the judge read him his list of rights, including the right to remain silent, Mr. Edwards, who was the Democratic vice presidential nominee in 2004 and twice a candidate for president, said: "Your honor, I'm an attorney. I'm aware of that."
GENERAL ALLEGATIONS
Relevant Persons and Entities
1. From in or about 1999 until in or about 2005,
JOHNNY REID EDWARDS was a United States
Senator from the State of North Earolina. From in or about 2007
until in or about 2008, EDWARDS was a candidate for the office of
President of the United States. A centerpiece of
candidacy was his public image as a devoted family man. The
communication strategy developed by campaign stressed
the importance of publicizing, among other things, "that
family comes first."
2. Person A,`a long-time assistant to EDWARDS, worked
for EDWARDS on his presidential campaign. Person A's duties as a
campaign employee included, among other things, handling personal
tasks on behalf of EDWARDS.
3. From in or about February 2006 through at least in
or about August 2008, EDWARDS had an extramarital affair with
Person B, which resulted in a pregnancy and the birth of a child.
4. Person was a political supporter of EDWARDS
beginning in or about 2004.
5. Person was involved in raising campaign funds
for EDWARDS, and served as his campaign's Finance Chair during
the 2008 presidential campaign cycle.
6. In or about January 2007, EDWARDS formed the "John
Edwards for President" Committee to receive contributions to
EDWARDS in support of his candidacy for President of the United
States.
Federal Campaign Contribution Limit
and Disclosure Requirements
7. The Federal Election Campaign Act of 1971, as
amended, Title 2, United States Code, Sections 431 through 455
(the "Election Act"), was a federal statute that regulated the
influence of money on politics in order to prevent corruption and
the appearance of corruption in federal elections.
8. In order to restrict the influence that any one
person could have on the outcome of the 2008 primary election for
President of the United States, the Election Act established that
the most an individual could contribute to any candidate for that
primary election was $2,300. The Election Act also prohibited
presidential candidates from accepting contributions from
individuals in excess of this limit. EDWARDS and the John
Edwards for President Committee were subject to the Election Act
and its contribution limit.
9. The Election Act's contribution limit applied to
anything of value provided for the purpose of influencing the
presidential election, including contributions to a candidate
and his/her campaign; expenditures made in cooperation,
consultation, or concert, with, or at the request or suggestion
of, a candidate or his/her campaign; and payments for
personal expenses of a candidate unless they would have been made
irrespective of the candidacy.
10. The Federal Election Commission was an
agency of the Executive Branch of the United States Government
responsible for the administration and civil enforcement of
federal election and campaign finance laws.
11. The Election Act required each presidential
campaign committee to file periodic campaign finance reports with
the FEC. In these reports, the committees were required to
identify each person who, during the relevant reporting period,
contributed more than $200 to the committee, together with the
date and the amount of any such contribution. The committees
were also required to disclose expenditures by the campaign.
EDWARDS, through the John Edwards for President Committee, was
required tc and did, in fact, file these periodic reports with
the`FEC.
12. The periodic reports that campaign committees
filed with the FEC were made available to the public. These
reports were intended to provide citizens with a transparent
record of the amounts and sources of campaign contributions, and
were intended to assist voters in making informed decisions at
the polls.